For a truly custom frame our closed-corner (also called finished corner) frames are the ideal solution. We build closed-corner style frames out of raw wood (normally basswood) and then apply the finish after we assemble the frame. Depending on the finish it normally covers the corners so that the joins aren't visible, hence the term closed (or finished) corner.
We can hand-carve, gild (silver or gold leaf), paint, or stain our closed-corner frames. Since our artisans do everything in-house we can finish our frames in custom colors of your choice – simply bring us in a sample of the color or the manufacturer/name of the paint or stain. These types of frames are sometimes called bespoke frames (more common name in the UK) because they can be unique and are hand-crafted.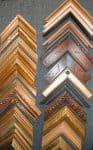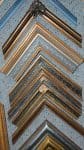 If you don't know exactly what type of frame you're looking for, we can assist you with educated recommendations and advice. Our years of experience and education enable our staff to recommend designs or period style frames appropriate to your artwork.
Whether you're framing an antique portrait or a modern landscape, we can create the perfect frame for your artwork.  We have on display many hand-crafted moulding samples with styles ranging from old-world elegance to the clean lines of contemporary design, 
Hand-carved frames are a dying art and our artisan framers work hard to preserve the craft and train the next generation.  Every closed-corner frame is hand-finished using time-honored techniques.  We have a variety of finishes to choose from including water-gilded karat gold leaf, gold or silver metal leaf, painted or stained, and several faux examples.  All of our customized finishes allow for the subtle toning, antiquing, and creation of a patina, which can enhance the palette of and add depth and beauty to your artwork.
Most of our custom frames are made out of basswood but we can make frames out of almost any wood including maple, walnut, etc. We primarily use basswood because it's soft enough, so we can carve it but it's also stable (so no warping) and typically has a consistent color and grain. Poplar is a cheaper alternative that some shops use but we'd rather spend the extra money for quality basswood.
We mill the wood in our wood shop and have blades for  the profiles we carry.   If you have a particular profile that we don't carry we can get a blade (or blades since some profiles are multi-pass) if you have a sample or diagram of the profile.  Custom blades do add significantly to the cost however.
For painted or stained finishes, we have our own state-of-the -art spray booth. If you have a particular color you'd like us to paint a frame, we just need the color details, so we can purchase a can from our supplier in a suitable format for spraying.
We have a number of carve patterns available but can also create a new carve just for you if you can describe it so that we can make a template.  We then scale the template to the frame.
If we're creating a gilded picture frame, we'll apply several layers of gesso (each being sanded before the application of the next).
We can change the tone of the leaf based on the color used underneath it.  Then we can finish the leaf in a number of different ways, burnishing, rub-through, antiquing, etc. to achieve the perfect finish.
We've built hundreds of bespoke frames over the years for Museums and collectors throughout the U.S. so you can be certain we'll be able to create whatever you need.  Here are a few recent examples:
If you're not familiar with us or our work, we invite you to take a look around our website or, even better, come in and talk to us about your custom framing project and we can walk you through the process and offer design tips. If you'd like to set up an appointment, please complete the form below and we'll respond as quickly as possible.
Take a look at some of our recent work on our portfolio page
 Otherwise, please call us at 303-394-3362 to set up an appointment to come in and talk to one of our designers for a free design session/discussion.  Alternatively, send us an email below with some details of what you're looking for and we'll get back to you as quickly as we can.
AUM Framing & Gallery
2227 E. Colfax Ave.
Denver, CO 80206
Phone: 303-394-3362