We want your memorabilia to last a lifetime and longer without changing color, fading, suffering damage from glues, or out- gassing from materials that are not acid-free. Our framers use the very best conservation materials for your projects.  Even interior lights give off UV that can fade items that are not protected.  Sharpie signatures are notorious for their ability to fade over time.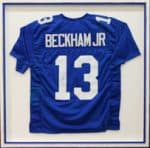 Custom Jersey Framing
Jerseys can be displayed in many ways – this is a simple display where the jersey is sew-tacked onto a background and the glazing is either conservation glass or acrylic (stops 99% of UV rays) or Museum grade glazing (UV coated and reduced glare coating).
The next step up would be the addition of photos, tickets, or other memorabilia in the frame with the jersey.  We can also cut mats in team colors to create a silhouette around the jersey, the choices are endless.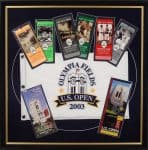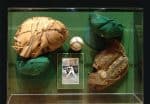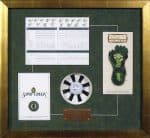 Even personal memories like a hole-in-one,  college or high school sport, etc can be memorialized and displayed.   Don't forget the stand-out moments of a child's or grandchild's sports moment – winning the Little League, soccer or lacrosse championship etc.
Great Sports Memories
Sporting events, star athletes, and our favorite sports teams are important parts of our lives and represent so many amazing moments. Over the years we collect all kinds of sports memorabilia, like pictures, ticket stubs, articles, game programs, and jerseys; these items remind us of the great game-winning memories and talented team players who have added so much to our lives.
You've probably got boxes and boxes of sports memorabilia, maybe stored under the bed or in a closet or drawer. Not only are you missing the memories that brought such joy, but your items are unprotected from the ravages of time. That's no way to enjoy them!
Bring that joyous feeling back with our custom jersey and sports memorabilia framing so that you can look at them every day. Not only are you creating a conversation piece, you're also passing those memories along – some of them historical. And the bonus if you have them framed the right way is that they are protected from the elements that can age them and so can be passed down to the next generation.
We've framed hundreds of pieces of memorabilia over the years, so you can be certain we'll be able to create and build a beautiful solution for your custom jersey framing or whatever you need to display.
If you're not familiar with us or our work, we invite you to take a look around our website or, even better, come in and talk to us about your sports memorabilia project and we can walk you through the process and offer design tips.
Take a look at some of our recent work on our portfolio page
Otherwise, please call us at 303-394-3362 to set up an appointment to come in and talk to one of our designers for a free design session/discussion.  Alternatively, send us an email below with some details of what you're looking for and we'll get back to you as quickly as we can.
AUM Framing & Gallery
2227 E. Colfax Ave.
Denver, CO 80206
Phone: 303-394-3362