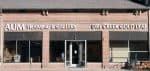 As of February 1, 2022 Tam O'Neill has retired and Cherry Creek Custom Framing has transitioned to join AUM Framing & Gallery and Dry Creek Gold Leaf in much larger premises at 2227 E. Colfax Ave (less than 2 miles from the Detroit St location). Same zip code but just outside Cherry Creek proper.
Cherry Creek Custom Framing, after nearly two decades in Cherry Creek, now joins forces with the largest, independently-owned custom framing business in Denver. Still offering perfectly designed picture frames, and exquisite craftsmanship, but now with much more.   2227 E. Colfax is located in the large brick building on the NW side of the E. Colfax and York St intersection.  Free customer parking behind the building makes it easy to stop by.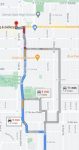 Parking can be accessed in one of 2 ways.   If you're travelling south on York St (it's a one way) you'd turn right into the parking area before the traffic lights at the Colfax intersection.
If you're on Colfax, you'd turn into the alley that runs along the west wall of the building.   Come around the back of the building into the parking area.
You're going to park either side of a purple door.  Ring the doorbell and someone will let you in.
If you're not familiar with AUM/Dry Creek or our work, we invite you to take a look around our website or, even better, come in and talk to us about your framing project and we can walk you through the process and offer design tips.  We'll also give you a tour of our 5,000 sq ft of workshop space.   Just a little larger than the 303 Detroit St. space!
Take a look at some of our recent framing projects on our portfolio pages
Stop by the store with your project for a free design session/discussion with one of our designers.  If you'd prefer to set up an appointment, please call us at 303-394-3362.  Alternatively, send us an email below with some details of what you're looking for and we'll get back to you as quickly as we can.
AUM Framing & Gallery
2227 E. Colfax Ave.
Denver, CO 80206
Phone: 303-394-3362