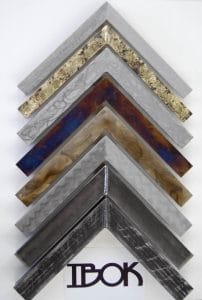 We have our own line of welded steel frames – IBOK. These are completely custom metal frames – you can choose from any of our existing samples or bring in a color of your choice. As long as we can get the paint or stain in the correct form for our sprayers (must be water based) then we can create a frame in that color.
These frames are ideal for that industrial or Lodo loft look but can be softened with the use of traditional framing materials (such as wood fillets) to fit in with any décor.
This custom steel framing has been blued using heat. This was
done deliberately to highlight the blue in the art.
We also have a line of hand-made leather frames that are made in Peru.  We use them for mirrors and for anything "western".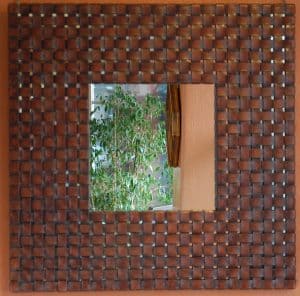 If you'd like to take a look at some of the examples of our leather and custom metal frame designs, as well as all the other types of framing we do, please go to our portfolio page or, even better, stop by the store. If you'd prefer, please call us at 303-394-3362 to set up an appointment to come in and talk to one of our designers for a free design session/discussion. Alternatively, send us an email below with some details of what you're looking for and we'll get back to you as quickly as we can.
AUM Framing & Gallery
2227 E. Colfax Ave.
Denver, CO 80206
Phone: 303-394-3362
Monday – Thursday: 7:30 am – 5:30 pm
Friday: 8:00 am – 5:30 pm
Saturday: 9:00 am – 5:30pm