The Ketubah is not only an important part of the Jewish wedding ceremony but also documents a couple's love and commitment to each other. We see some beautiful Ketubah that are gorgeous pieces of art in their own right, which is why we offer custom Ketubah framing.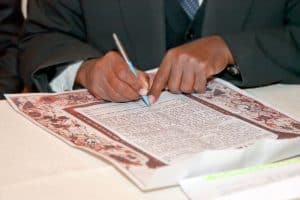 Some Ketubahs are on vellum, others on media like watercolor paper.  Whatever the medium we always recommend archival (conservation) framing.  This includes methods like Japanese paper hinges (attached via wheat starch paste we make in-house), museum quality matboard, and at least Conservation Clear glass or plexi (UV protection so the colors won't fade).  Ideally, we'll recommend Museum glass since it has the UV protection as well as significant glare reduction so that the Ketubah is visible in all kinds of light.
From a design perspective we'll recommend a frame that complements the colors and style of the Ketubah and brings the viewers focus onto the Ketubah itself.  Remember, this is a document you'll hopefully have for the rest of your lives so have us frame it in a timeless design.
If you're not familiar with us or our custom ketubah framing, we invite you to take a look around our website or, even better, come in and talk to us about your ketubah framing project and we can walk you through the process and offer design tips.
Take a look at some of our recent work on our portfolio page
If you're looking to frame a Ketubah bring it in and one of our designers will show you the amazing things we can do with it.  The best thing to do is to call us at 303-394-3362 to set up an appointment to come in and talk to one of our designers for a free design session/discussion.  Alternatively, send us an email below with some details of what you're looking for and we'll get back to you as quickly as we can.
AUM Framing & Gallery
2227 E. Colfax Ave.
Denver, CO 80206
Phone: 303-394-3362