High School/College/University/Graduate School diplomas
Certificates, Awards, Documents of all kinds
You've put a lot of time and effort (and in many cases a lot of money) to graduate. Rather than framing your diploma in one of those cheap, cookie-cutter frames why not display it with pride? AUM Framing & Gallery offers an amazing selection of designs and professional degree certificate framing in Denver for your personalized certificate or diploma.
Set yourself apart: Everybody knows what ordinary looks like – give people a reason to notice your credentials. If you have multiple diplomas, frame each differently, upgrading with each degree. Good quality graduation certificate framing gives an immediate feeling of success.
Let your diploma be a silent sales tool, communicating your professionalism, credentials, and style. Custom framing your diploma is a great way to enhance its presentation and preserve it for the future.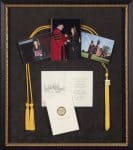 We also frame invitations and photos from weddings, christenings, commencements etc., as well as any type of document.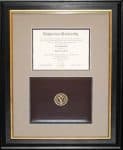 Preserve Your Documents for Years to Come
Professional degree certificate framing can extend the life of your document as well as highlighting it in a frame.
Diplomas especially are meant to be displayed and enjoyed for years – sometimes even a lifetime. If framed improperly, your diploma could quickly show the effects of time, sun damage, and acid burn. Don't let this or any other important document be ruined by cheap framing! Proper custom framing helps preserve your document with UV protected glass, acid-free matboard and materials, and museum-quality reversible mounting.
A Few Tips on Storing Your Document Before Framing…
Avoid keeping it in direct contact with acidic materials like cardboard. You'd be amazed at how quickly acid can discolor a document!
Don't keep it in direct light (especially sunlight). Fading and discoloration can occur extremely fast with an unprotected document.
Store your document flat. Rolling it greatly increases the chance of getting permanent waves in the material, or even worse, wrinkles and creases.
We've framed thousands of diplomas, awards, certificates, etc over the years for a lot of different clients. so you can be certain we'll be able to create whatever you need.
If you're not familiar with us or our work, we invite you to take a look around our website or, even better, come in and talk to us about your document framing project and we can walk you through the process and offer design tips.
Take a look at some of our recent work on our portfolio page
Otherwise, please call us at 303-394-3362 to set up an appointment to come in and talk to one of our designers for a free design session/discussion.  Alternatively, send us an email below with some details of what you're looking for and we'll get back to you as quickly as we can.
AUM Framing & Gallery
2227 E. Colfax Ave.
Denver, CO 80206
Phone: 303-394-3362