Basically, we can frame anything that can be framed, and have done so over the years but we're always open to a new challenge.  Here's a quick overview of our most popular services but, if you don't see what you're looking for, it doesn't mean we don't offer it.   Call or email us with a quick explanation of what you're looking for and we'll give you the information you need.
Amazing Gold & Silver Leaf , Hand-carved, and Custom Finish Frames.
This is why we have such a long name – AUM Framing & Gallery and Dry Creek Gold Leaf Frame Makers.  AUM specialized in building unique frames out of pre-finished moulding and Dry Creek Gold Leaf (which used to be on S. Broadway) made it's name in closed-corner frames.   In 2014 we merged both companies into an expanded space at our Colfax location so that everything is under one roof. We can now build any type of frame for our clients.
Our closed-corner (also called finished corner) frames are made in-house. We build them out of basswood and then apply the finish after joining the frame so that the joins aren't visible.   Since we do everything in-house we can also finish our frames in custom colors of your choice in our spray booth.
We'll help design the perfect frame for your artwork – from old-world elegance to the clean lines of contemporary design.  
 We have a variety of finishes to choose from including water-gilded karat gold leaf, gold or silver leaf, painted or stained, and several faux examples.  All of our customized finishes allow for the subtle toning, antiquing, and creation of a patina.
We've built hundreds of  these truly custom frames over the years for Museums and collectors throughout the U.S. so you can be sure that we'll be able to create a perfect frame for your artwork.
If you'd like to read more about our closed corner frames please click through to our closed-corner page here.
Frame Conservation, Restoration, and Repair.
No matter how old your frame, as long as it's wood we can repair damage to it.  Sometimes it's simple like a frame fell off the wall, other times it can be complicated like an antique frame is losing it's ornamentation, the corners are coming apart, and the finish is falling off.
Our goal is conserve every frame we can.  Even if the frame has lost finish and ornamentation we can recreate the ornamentation and restore the finish as long as the frame itself is not warped (eg from water damage).  We match the new finish to the existing finish so that it's extremely difficult to tell that there has been a repair.
In the event a frame can't be saved, we can replicate it or design a new, period correct frame for you artwork.
And yes, we do simple things like replace broken glass.
If you'd like to read more about our frame restoration and repair, please click through to our conservation page here.
Textile Mounting and Framing.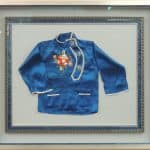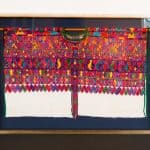 Whether it's as large as a rug or as small as a sampler we can mount & frame your textiles.  Unlike a lot of frame shops we don't mount textiles using plastic "price tag" fasteners, we actually sew tack by hand.  The work is done by someone with a lot of textile experience, – normally Gloria, who spends most of her spare time on needlework and quilting.  Yes it's more expensive than someone spending 15 minutes with an Attach-EZ but if your textile is worth framing wouldn't you want it to be mounted correctly?
If you'd like to read more about our textile mounting and framing, please click through to our textile page here.
If you're not familiar with us or our work, we invite you to take a look around our website or, even better, come in and talk to us about your custom framing project and we can walk you through the process and offer design tips. If you'd like to set up an appointment, please complete the form below and we'll respond as quickly as possible.
Take a look at some of our recent work on our portfolio page
 Otherwise, please call us at 303-394-3362 to set up an appointment to come in and talk to one of our designers for a free design session/discussion.  Alternatively, send us an email below with some details of what you're looking for and we'll get back to you as quickly as we can.
AUM Framing & Gallery/Dry Creek Gold Leaf
2227 E. Colfax Ave.
Denver, CO 80206
Phone: 303-394-3362