After being in the art industry for many years, I think there's a misconception about restoring antique picture frames. I think that many people believe if you restore a picture frame, it decreases in value because it's better to keep it in its original condition. However, this couldn't be further from the truth, particularly if the restoration is done correctly. There are so many benefits to professional antique picture frame restoration that everyone should know about. Think about some of the art you see in Museums, many of the older pieces have probably been touched up, in-painted, or just cleaned by a conservator. Restoration not only improves the aesthetics but helps prolong the life of artwork or a frame. It's important to understand that restoration does not mean refinishing, a restored frame (if done correctly) still looks its age. A restorer's emphasis is on the preservation of your frame, its history, its patina and its value, both intrinsic and personal. Here at AUM/Dry Creek Gold Leaf we employ a "conservation" approach in our restoration – repairing and refinishing only damaged areas, leaving as much of the frame's original finish as is possible.
It Adds Value
One enormous benefit of professional antique picture frame restoration is that it adds value to the frame. If you're ever thinking about selling an antique artwork that's housed in a cracked frame covered in spots of white gesso where ornamentation is missing you'll get a lower price for it than if you'd had it professionally restored beforehand because the buyer will be factoring in the cost of restoration into the price they're willing to pay. Even if you're not thinking of selling, why not enjoy the artwork to the fullest – picture frames should enhance the beauty of a piece of artwork. If a cracked and dirty frame surrounds a beautiful piece of art, this takes away from its purpose. As with art, professional restoration doesn't negatively impact the value of the frame as long as it's done correctly.
Gives the Frame New Life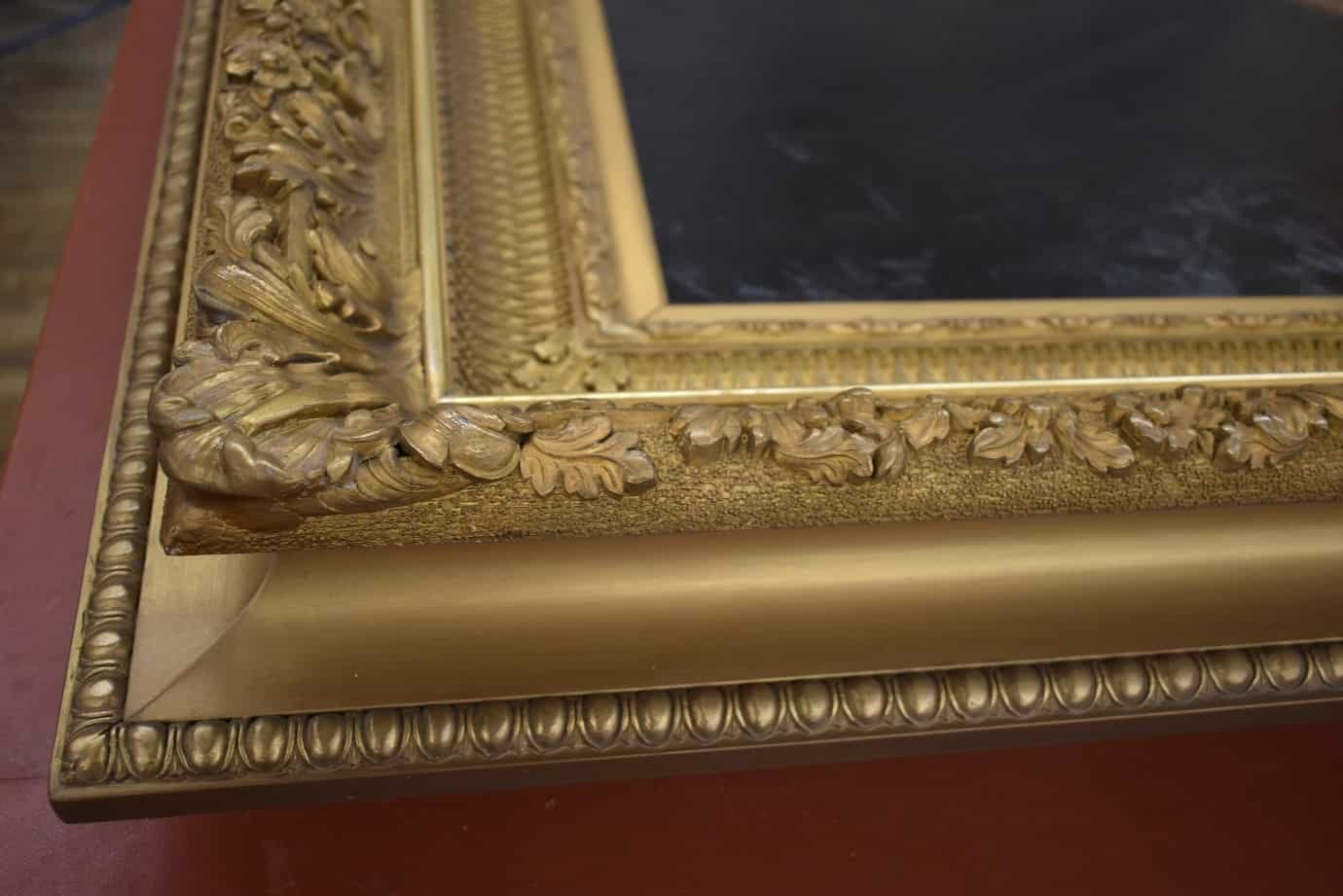 When you have a professional restore an antique picture frame, you provide the frame new life. Most antique picture frames are extraordinary. There are so many exquisite details that most people overlook because of wear and tear that occurs over time. People's sight tends to be drawn to the areas of missing ornamentation (especially if all they see is the white gesso layer where there used to be gold ornamentation) or areas that have been repainted where the finish no longer matches the areas around it. However, if someone restores a frame correctly, you'll see those pristine details once again. Antique picture frames can add an element of beauty to your home's interior design, as well. These frames are true conversation starters. I promise if you restore any antique picture frames you have, your home will look gorgeous, and they'll catch the eye of visitors to your home. More importantly, you'll better enjoy looking at the art inside a restored frame than you did before it was restored.
What about refinishing an antique frame?
In some cases the current finish on an antique frame can't be saved. If there's been extensive water damage that's causing the layers of gesso etc. below the finish to fall off we can't save the finish, we have to go back to the original wood underneath and start again. In many cases, beautiful frames were repainted with something that's often termed "radiator paint". It started out as a gold color that tarnished over time to become a very brassy finish. In some cases, a client may not want to pay for the extensive time it would take to remove the radiator paint and so we will refinish the frame in leaf and then patina it so that it still looks like an aged finish.
Another scenario where we may completely refinish an antique frame is becoming more common – an old frame that doesn't have any art in it and a client wants to use it as a mirror frame and asks for it to be repainted to work with their décor.
What Goes into the Restoration Process?
It's important to understand what's involved in the restoration process to understand why it's so beneficial. The restoration process consists of four stages. The first step is to repair and stabilize. Here, experts will take apart the frame if the corners are loose or a large gap has developed along the original corner joints, sand it, and fill it in. They will remove or stabilize any loose ornamentation. The second step is, to repair any damaged ornamentation or recreate it if it's missing. Thirdly, they refinish areas of repair to match the existing finish. Finally, experts will add a layer of protectant to the frame to help keep it in pristine condition.
It's a Job for Professionals
You should never try to restore an antique picture frame by yourself. Restoration is something that professional framers who know precisely what they're doing should complete. AUM Framing & Gallery's trained team of experts knows what steps to take throughout the restoration process, so everything's done correctly. If you try to take on the task yourself, you could end up damaging the frame and definitely make any future restoration more difficult (and costly). So please be smart and consult a professional framer the minute you think about having an antique frame restored. Our goal at AUM is to conserve as much of the original frame as possible and ensure the frame can safely house your artwork. We'll never do anything that'll compromise the beauty of your pieces. Professional framing is a wise investment, and here at AUM, we promise you'll feel thrilled with the results.