Perfect unity between frame and art!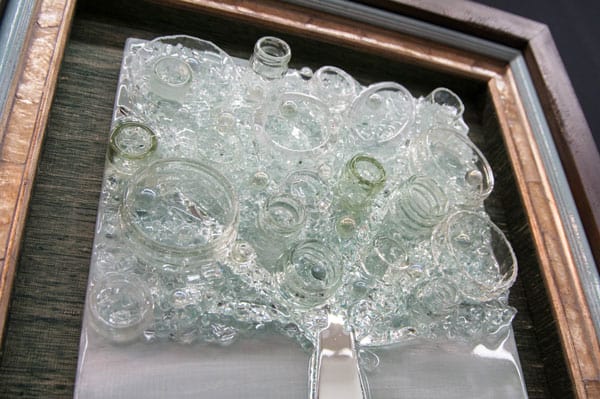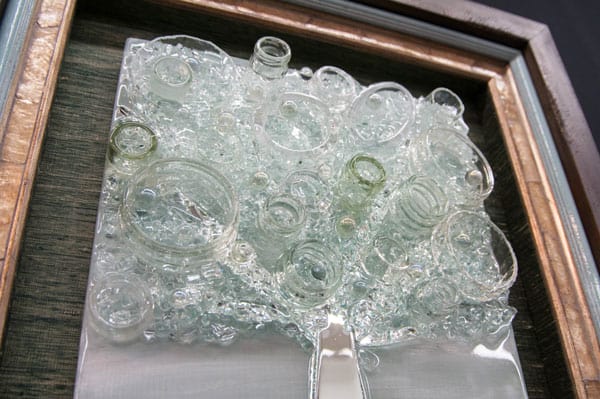 ---
Frame Elements:
Three frame elements stacked:

A lacquered satin blue, Bella molding
Seaside Pearl Champagne, The Woods of Designer Moulding
Weathered, Dark Rustic Brown Stained Wood, Fotiou molding

Silk wrapped mat with matching spacers

Typically, spacers are utilized to lift glazing above the art. Here spacers also create depth so the art rests nicely within the custom frame.

The art is floated on silk wrapped mat

Papyrus like texture with deep greens and rich golds that creates a more interesting display without taking attention away from the art
Here at AUM we don't buy fabric mats, we buy the fabric and hand-wrap it over various conservation friendly substrates.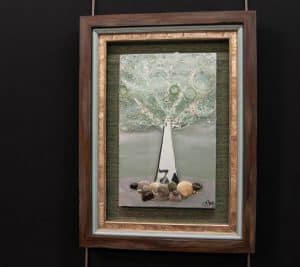 ---
Silk, being an especially delicate material, requires expert skill when handling it.
We've mastered this difficult element of framing so we are able to hand wrap just about any fabric which opens an array of options for designs.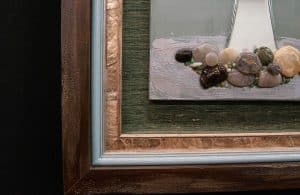 Fabric mats work wonderfully with textiles or other art when a regular mat just won't do the trick.
Mixing different textures within a design add intrigue and sophistication without overbearing the art.